A Future for Tomorrow is an extraordinary non-fiction account of the author's actual battle against anorexia nervosa as well as a spiritual triumph against evil.
You will be brought into the anorexic mind, shown the fierce war against depression and self-depreciative thoughts and actions; and witness the gravity of the destruction this disease can do.
A deeply edifying experience will occur as you journey with the author to that eternal world. There, angels confirm to her gospel truths such as the intensity of Christ's love, and the sacred and holy nature of our Father's plan for his children here on Earth.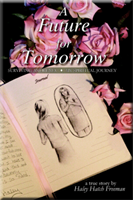 Buy the Book
LDS Non-fiction Book
Written By
Haley Hatch Freeman